Learn more about Pillir, its values, its founder - Vaidya Aiyer Journey, and everything you need to know about low-code/no-code
Please brief our audience about your company, its values, and how it is positioned as a leading player in the software development space.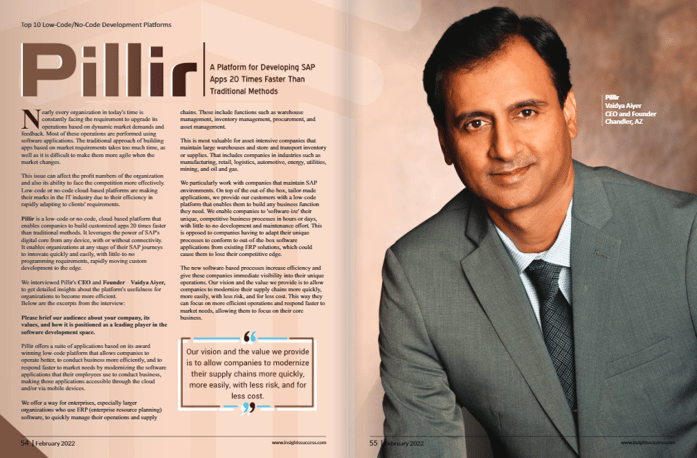 Pillir offers a suite of applications based on its-award winning low-code platform that allows companies to operate better, to conduct business more efficiently, and to respond faster to market needs by modernizing the software applications that their employees use to conduct business, and making those applications accessible through the cloud and/or via mobile devices. We offer a way for enterprises, especially larger organizations who use ERP (enterprise resource planning) software, to quickly manage their operations and supply chains. These include functions such as warehouse management, inventory management, procurement and asset management. This is most valuable for asset-intensive companies that maintain large warehouses and store and transport inventory or supplies. That would include companies in industries such as manufacturing, retail, logistics, automotive and energy like, utilities, mining and oil-and-gas.
We particularly work with companies that maintain SAP environments. On top of the out-of-the-box, tailor-made applications, we provide our customers with a low-code platform that enables them to build any business function they need. Essentially, we enable companies to softwarize their unique, competitive business processes in hours or days, with little-to-no development and maintenance effort. This is opposed to companies having to adapt their unique processes to meet out-of-the-box software processes from existing ERP solutions, which could cause them to lose their competitive edge.
The new software-based processes increase efficiency and give these companies immediate visibility into their unique operations. Our vision and the value we provide is to allow companies to modernize their supply chains more quickly, more easily, with less risk, and also for less cost. This way they can focus on more efficient operations and respond faster to market needs, allowing them to focus on their core business.
Elaborate more on the solutions and services that your company offers and how are these making an impact on the industry and your clients?
In the current market, these larger enterprise environments are facing rising costs in their supply chain and a shortage of IT talent, yet they're looking to modernize and increase efficiency. Their legacy IT environments address their unique and differentiated business processes, but are often overly complex. They have also typically been updated, patched, and customized over many years, making it difficult for companies to then convert them to cloud-based versions. Once moved to the cloud, companies are able to have greater mobility and visibility of their data and processes, especially regarding various supply chain functions like inventory, logistics and warehousing.
Pillir provides supply chain solutions built on a cloud-native low-code/no-code platform. Enterprises can quickly deploy those pre-built applications and integrate them into their existing ERP/IT applications environment, as well as tweak them quickly to accommodate their unique business processes, all without having to write a single line of code using our low-code/no-code platform. In addition, we provide a unique capability to automatically transform their legacy ERP/SAP customizations into cloud-native applications on our no-code platform.
This enables these companies to retain their unique, custom business processes and leverage the IP from legacy applications instead of dumping them, and either restarting or worse, lose their competitive edge by standardizing their unique processes. We provide a way to digitally transform their operations and supply chain quickly even in complex, integration-heavy landscapes, through the use of low-code no-code integration, as well as through pre-built, purpose-built applications.
Modernizing and creating new, mobile-friendly applications has provided our customers with real-time visibility to their inventory and operations. This has increased efficiency by allowing them to use any device (desktop, tablet, mobile phone or hardened handheld devices) anywhere regardless of the status of connectivity in their locations, as well as utilize new and improved processes and mechanisms (adding scanners, images, or new locations, etc. to their systems).
Different customers gain different business benefits from these new processes. For instance, we have a customer that also alleviates certain safety hazards in industrial settings, where workers previously had to physically transport data through busy warehouses increasing safety hazards. With their new, modernized applications, employees no longer have to walk through areas where heavy equipment such as forklifts are in use in order to check inventory data. Operators in the warehouse can now scan, view, and change that information from their forklifts, without having to get down and walk through the aisles. That not only decreases safety risks but improves productivity across the warehouses. One customer improved their processes and efficiency by reducing the amount of manual labor involved in materials management by 30%. Yet another one reduced data entry for field teams by over 95%. And a third client shortened payroll processing from 3 days utilizing 5 people, to 2 hours utilizing only a single person.
Please brief us about the featured person(s) journey in the industry, and how they have contributed towards the company's success.
In terms of my personal journey, I have been devoted specifically to custom development of business applications in SAP environments for a very long time. I began programming in the early '90's, specializing in integrations back when that area was first emerging. But my industry focus was always manufacturing and supply chains. Custom development at that time was–and still is today–a very tedious process, especially when it comes to ERP. It's expensive and requires many people, who are often hard to find. I developed Pillir to solve those problems, to expedite innovation in the world of ERP through the use of a low-code platform. When we solved the problem for ourselves, we realized that many other companies were having the same issues as we were, and we knew we could address that for other enterprises as well.
We therefore became a start-up in the rapid application development market, so we could help organizations build new applications and innovate their business applications more quickly and easily using less personnel. That's what we bring to the table. We reduce the complexity of innovation in ERP environments.
Share your opinion on how modern technologies have transformed the low code development solutions niche, and what more could be expected in the near future?
Low-code or rapid application development has been with us a very long time, although we may not realize it. I can argue that Microsoft Excel is among the early, successful pioneers of low-code. Technology has come a long way to automate much of what programmers do in traditional application development. Elements like cloud, mobility, big-data, machine learning, and various open-source initiatives have helped drive the automation of application development towards low-code and no-code platforms. Low- and no-code now encompasses complex enterprise application development; integrations to multiple enterprise applications; and even the transformation of legacy applications into modern, no-code-based applications.
Things are continuing to evolve. Modern low-code was all about automating most of the application development but leaving room for developers to pitch-in. It then evolved into no-code programming, where the platform was smart enough to generate 100% of the application without the developer writing a single line of code. Technology is becoming more sophisticated and no-code platforms are getting more powerful every day.
Low-code/no-code is now making a generational leap forward with what we call "transform-code." For example, no matter how easy low-code/no-code may be, large enterprises have tons of legacy applications, making it near impossible to document all that tribal knowledge. Those complex legacy applications need to be redeveloped using a low-code/no-code platform. A "transform-code"-based platform takes LC/NC one step further. It decompiles and understands the ins-and-outs of legacy applications and transforms them into new, modern applications through advanced automation, accelerating modernization.
These powerful low-code /no-code platforms will help deliver modern capabilities on various form factors such as the web, kiosks, mobile, ruggedized devices, and more, so workers have all the data and market intelligence of their unique business right in their individual pockets.
Considering the COVID-19 pandemic and its impact on global economies, what were the challenges faced by your company's doors and how did you pivot from those challenges?
There has been a shortage of developers in the marketplace for many years now. But once the pandemic hit, a labor shortage has set-in across-the-board. Companies don't have the people available to deliver modernized business processes, putting a dent in digital transformation. Pillir has stepped-in to provide pre-built solutions that address different business needs like inventory and warehouse management, including different suites and application packages that are customized to each business' unique needs.
What would be your advice to budding entrepreneurs aspiring to venture into the low code development solutions space?
Low-code/no-code is to application development what cloud is to infrastructure. A few years ago, businesses had to procure and maintain infrastructure in order to conduct business. Cloud turned that upside-down. Now all the dependencies on infrastructure personnel is gone. Employees simply log-in with a cloud providers and provision the infrastructure they need in minutes. Similarly, LC/NC platforms are democratizing and removing the dependencies on expensive application programmers.
Businesses will always have a need for custom business processes. But soon–just like what happened with cloud infrastructures–developers will be able to log-into their favorite LC/NC platform, pick a business process, customize it to their unique needs, integrate it with other applications in their corporate IT fabric, and deploy in hours or days.
That also means when the time comes to change or tweak that business application, (e.g., an unforeseen event like the pandemic), these companies will be able to change their processes and streamline their operations to address market conditions faster-than-ever. My advice to budding entrepreneurs to take advantage and ride this wave sooner rather than later.
How do you envision scaling your company's operations and offerings in 2022 and beyond?
Pillir has one of the most advanced low-code/no-code platforms in the industry, especially for ERP- and asset-heavy industries. We are taking it a step further by launching applications on our award-winning low-code/no-code platform to streamline and modernize supply-chains globally. This year and beyond, we will launch hundreds of applications that enable companies to leverage their competitive, unique business processes by simply picking these applications and integrating /customizing to their unique needs, without having to write a single line of code.
We're starting with the launch of a new suite of applications for goods movement across sites and warehouses. This suite will have 16 individual but integrated, pre-built applications that address the full range of functions involved in goods movement in a warehouse setting, including tasks for inventory and warehouse management. This makes it easier for customers who are struggling with the time requirements of innovation, or just have a shortage of talent to learn and implement low-code platforms. We'll be expanding with new suites and products going forward to address a more comprehensive range of business tasks that enterprises must undertake in ERP environments.
Give us a few testimonials of your clients/customers and awards/recognitions that accurately highlight your company's position in the market. (If available/permissible)
Dole Packaged Foods
Dole Packaged Foods is a household name in producing, processing, sourcing, distributing, and marketing fruit and healthy food products. Pillir's solution created new, cloud-based applications for this company, reducing their material master management costs by 30%. The company deployed a custom solution using its low-code platform, enhancing the customized user experience for this company's business processes, integrated closely with its SAP-based ERP systems. They were able to digitize workflows across the entire materials creation process – for both the SAP and non-SAP based applications. Built and deployed in mere weeks instead of months, it gave various teams visibility into quality, sales, and pricing data, to manage materials across various product types.
"We were in need of a mobile solution for our SAP systems that could be deployed easily and quickly. The solutions from Pillir were deployed in weeks. We were also able to provide better master data governance and reduce the master data processing time significantly due to efficiencies gained. This is thanks to Pillir's comprehensive capabilities coupled with their speed of deployment," said Bill Farrell, Director of SAP Technology and Governance, Dole Packaged Foods.
Brown Forman
Brown-Forman produces several renowned American alcohol brands in more than 170 countries, including Jack Daniel's bourbon and other whiskeys. The company owns its own cooperages where they build the specialized barrels that account for the quality attributes of the bourbon. They needed to replace an 18-year-old legacy platform that could no longer be supported, which addressed inventory and purchasing management. It had to function without connectivity and under adverse conditions like in rustic outdoor settings and inclement weather so "log buyers" could manage lumber purchases for the specialized barrels.
Pillir's low-code platform was able to develop a roster of easy-to-use applications that the log buyers could use in the field to track purchasing, pricing, and materials, no matter the connectivity or environmental conditions. The company was able to also use new hardware of choice with these apps since Pillir's solution is vendor-neutral.
"By using Pillir's platform, we created more than 15 applications in only a few months, which gave us real-time visibility on our inventory and increased operational efficiency, regardless of connectivity," confirmed. Chris Ford, Manager and Master Architect, Brown-Forman.
What is your opinion on the future of the software development niche concerning the changing requirements and trends in the industry? (Please answer this question in about 200-300 words apart from the word limit mentioned above. Your views on this question will be portrayed in a separate editorial article within this edition)
Low code and no code technology is the future of software development—that's why we're in this business. The labor shortage will linger, and the long-held shortage of developers has been exacerbated by "The Great Resignation." Also, as newer developers come into the field, they are excited by newer languages and the latest programming methods. They don't want to go into legacy environments that utilize years- or even decades-old code; they want to work in more modern languages. So that leaves larger enterprises that are trying to innovate and modernize their legacy environments in an even deeper lurch. They need to upgrade their software-based business processes through rapid application development, which will help them streamline their digital transformation journey.
Companies like Pillir exist to accelerate this business transformation process, and even create the applications for these clientele if necessary. We can do this more quickly and cost-effectively, without disrupting entire departments for long periods of time. The worse the talent shortage becomes, the more these low-code tools will be needed to facilitate modernization in a more manageable way. This also helps to alleviate some of the rising costs in the supply chain for companies, because once their systems are modernized, their operations can run more efficiently. Employees will have greater mobility and expanded access to their tools and information, and there will be greater visibility of company data throughout that organization due to applications being cloud- and mobile-native. Digital transformation is a huge productivity booster—that's why everyone is looking to modernize.

Was initially published Insight Success magazine