Launch coincides with 4/27 interactive event featuring industry visionaries such as SAP Community Analyst Paul Kurchina
Pillir, the developer of innovative low-code supply chain acceleration applications for ERP and SAP-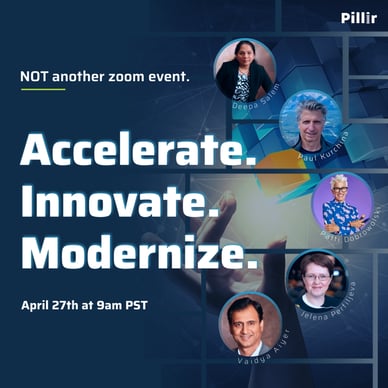 centric environments, announces the launch of its new SAP business applications Accelerator solutions, a series of suites that accelerate enterprises' ability to rapidly create and deploy cloud-based web and mobile applications. These include the Pillir Warehouse Management, Pillir Asset Management, and Pillir Goods Movement suites addressing a roster of inventory, tracking, and warehouse operational functions to optimize supply chains. Pillir's low-code solutions address the current labor shortage through a portfolio of deployment-ready, customizable, cloud-based, and mobile business applications, tailored to the needs of each individual organization. Pillir's inaugural Goods Movement app suite lets asset-heavy companies achieve faster supply chain fulfillment and reduce operational costs.
Pillir will hold an interactive online event, "Business Applications: Faster Than You Ever Thought Possible, Simpler Than You Can Imagine," on April 27, 12:00 p.m. EST / 9:00 a.m. PST / 5:00 p.m. BST to support the launch. Participants can learn about the new Accelerator applications and discuss trends and market insights live with esteemed industry experts. It's an invigorating, interactive educational opportunity moderated by acclaimed TEDx motivational speaker Patti Dobrowolski. Dobrowolski will introduce industry pioneers like SAP Community Analyst Paul Kurchina, SAP development influencer Jelena Perfiljeva, Industry Analyst Deepa Salem, and Pillir CEO Vaidya Aiyer. These visionaries will explore the future of SAP business modernization and the results of the latest market research on application development and strategy, including how low-code/no-code application development is helping enterprises accelerate their business processes and optimize their supply chains for resilience, while creating operational efficiencies. Visit here to register.
The session will run on a unique platform which allows attendees to network with each other and with presenters at various virtual groups and tables during the event. In addition, attendees can participate in a roster of sessions on how SAP-centric environments can improve the functionality, productivity, and visibility of businesses through the use of re-imagined, next-generation business software applications.
"Enterprises are looking to quickly respond to the market and changing business needs, increase operational efficiencies, and save costs. IT teams are struggling to provide adequate solutions due to the shortage of talent," said Pillir CEO Vaidya Aiyer. "With our new offerings, they will be able to accelerate their business processes to facilitate modernization and digitization, regardless of where they are in the larger digital transformation scheme. Business innovation shouldn't take months or years, and can be done in days, gaining quick business values such as increased safety, reduced inventory, lower mean time to repair, and higher resource utilization."