Competitive warehouses operate differently than they have in the past. Supply chain disruptions related to the COVID-19 pandemic have put additional pressure on warehouses and distribution centers (DCs) to deal with the unknown and quickly respond to change. Furthermore, the labor shortage impacting many SAP Warehouse Management System users has created a need to eliminate all redundant work and inefficiencies and automate as much as possible. To further complicate the situation, customers – from the largest B2B buyer to a consumer placing an occasional e-commerce order—have become more demanding.
More than ever before, SAP Warehouse Management System users are looking for ways to optimize processes and ensure the best possible performance in a dynamic and demanding space.
What is SAP Warehouse Management – and What More Do Users Need?
An SAP Warehouse Management (SAP WM) implementation extends the functionality of your SAP core, enables you to automate goods movement and stock management, and provides you with the tools you need to schedule activity to create more efficient operations.
Additionally, SAP Warehouse Management System integrates with SAP Inventory Management, which allows you to manage material quantity and value of stock. However, SAP WMS goes further to enable you to map out your warehouse down to storage bin level, giving you visibility into stock quantities and location. It also provides you with insights and tools that allow you to optimize warehouse space, orchestrate movement and activity, and efficiently service several facilities from a single warehouse or DC.
Even though SAP provides a full-featured solution for warehouse management, many users find that they can improve efficiency with customizations that optimize processes unique to their businesses. Customizations can take a user the final mile toward optimal SAP warehouse management process flow, eliminating manual processes and bottlenecks and delivering efficiency and real-time visibility.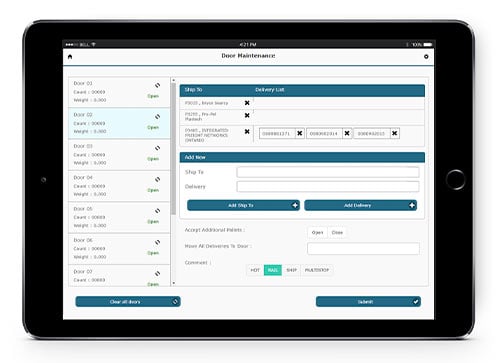 Customizations that can enhance productivity and efficiency in an

SAP Warehouse Management System
Some of the custom applications that may hold the key to overcoming the challenges that warehouses and DCs face today include:
A purchase order approval mobile app replaces manual processes with a streamlined process based on your workflow and release parameters. It can also automate the SAP MM purchase order process by notifying receiving and accounting in real-time.
Warehouses and DCs create this app as a companion to SAP Inventory Management, allowing them to leverage mobile devices' native features, such as GPS positioning and barcode scanning. Employees can use the app to locate storage sections or even specified storage bins and automatically share updates on stock quantity with SAP.
Using a custom material traceability app allows you to follow stock or parts from procurement through to delivery to end-users – and every step in between. You can use the app, rather than labor, to locate parts, work in process, and products on pallets ready for shipment.
Warehouses and DCs can use a goods movement app to accurately track the transfer or movement of goods between areas of a warehouse or to other warehouses or DCs.
With this type of custom app, managers and employees on the warehouse floor can confirm orders from a mobile device at the moment a job is complete and without the gap in time that using a shared, stationary computer can create.
Production / Process Instructions
Guiding warehouse employees through picking or other processes can improve accuracy and productivity. A custom app can help you guide your team through instructions and parts or materials needed to complete the task. The app can also track the quantity of goods consumed to update SAP in near real-time.
Gaps Still Exist
In practice, warehouse management with SAP often doesn't deliver the efficiencies users envisioned when they deployed the solution – even with customizations. Two major challenges still exist:
Offline functionality
Warehouses are expansive facilities with obstructions and materials that interfere with wireless connectivity. As a result, your team may be forced to revert to manual processes when they can't connect to your SAP system, which interferes with accuracy and productivity.
Rapid application development (RAD) platforms support offline capabilities for your custom applications. However, as you dig deeper, you may find that they only support "lightweight" offline use cases, such as brief or infrequent loss of connectivity. The offline apps you can create with these platforms are often not practical solutions to intermittent and unreliable connectivity that users can experience in warehouses.
The best RAD platform for offline warehouse app development takes a true, offline-first approach to mobile app development and has deep integration with SAP. A platform with these features will enable your team to work offline or online without changing their workflows. For example, temporary SAP document numbers are assigned offline and execute those documents to fill orders, track time, and more – without concern over losing vital data or correcting errors or conflicts later.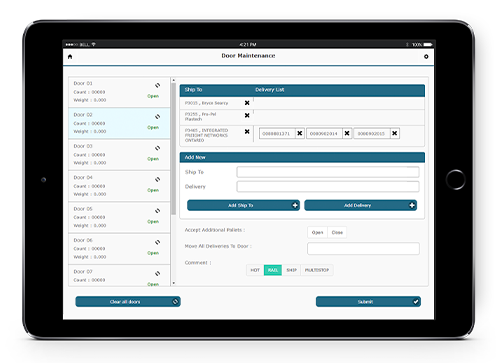 Mobile device support
Additionally, the optimal RAD platform for developing custom applications for your warehouse operation will give you the choice of the devices your team can use. A custom app shouldn't limit your team from using a device with the native features they need, optimal display on the user interface, or security hardening.
Choose a RAD platform for custom app development that gives you the freedom to choose the best devices for your team -- whether iOS or Android or devices on which you can embed your application, such as handhelds or rugged tablets from Zebra or Honeywell.
Furthermore, your low-code/no-code platform shouldn't make you commit to a specific device before you start to develop. Look for a RAD solution that allows you to create your app, deploy and test it on any platform to ensure you are providing the optimal user experience on the most cost-effective device for your use case.
Development Without the Pain
If you're like most warehouse and DC operators, you see the value in custom apps, but you may not see a practical way to manage development and maintenance. A RAD platform designed specifically for SAP customizations, especially one with pre-built templates that you can customize for your specific warehouse operation, will make development and deployment quicker and easier.
Moreover, a low-code/no-code platform enables your team member, even those without cloud or mobile app development expertise, to use graphical "building blocks" to create apps tailored to your operation. And you can deploy those apps in just a few weeks. You can also incrementally improve warehouse operations, digitizing operations at your own pace and without disrupting workflows. With these capabilities, your operation can adapt processes and automate with apps, even in times of rapid change and unpredictability.
With a low-code/no-code platform such as Pillir, purpose-built to enhance your ERP's functionality, you also have the tools you need to maintain and update custom code. Pillir also allows you to migrate ABAP to the cloud or another SAP or ERP environment. Additionally, you can overcome lost tribal IT knowledge as developers move on from your organization or to other positions and minimize technical debt.
Final thoughts on SAP Warehouse Management
Creating the ideal management system for your warehouse will most likely require custom applications that address the specific way your business operates. Pillir enables you to build the apps you need without the time, labor, and maintenance burden of traditional development.
Read our case study Wine Warehouse: Digitizing SAP Warehouse and Logistics Operations to see how Pillir enabled a business in the beverage industry to optimize its processes.
Watch a technical demo of Pillir's warehouse management solution