In a recent webinar with ASUG, Brown-Forman joined us to discuss the challenges they faced with their legacy workflow processes. They needed a solution that would be flexible, resilient, and easy to maintain, while also being accessible in any connectivity landscape.
Watch the webinar video below or continue reading to learn how EdgeReady Cloud enabled Brown-Forman to eradicate their previous challenges they faced with their complex SAP ERP processes.
Who is Brown-Forman?
Brown-Forman is a diversified producer of fine quality beverage alcohol brands, including Jack Daniel's Tennessee Whiskey, Herradurra, El Jimador Tequila, and much more.They were founded in 1870 in Louisville, Kentucky and produced America's first bottled bourbon, Old Forester Kentucky Straight Bourbon Whisky, which was the company's original brand.
Brown-Forman believes in promoting the responsible consumption of their products, reducing alcohol abuse and misuse, protecting the environment, proving a healthy, safe, and inclusive workplace, and contributing to the global economies where they operate. Today, they have 4,500 employees worldwide and 25 brands, making them one of the largest American-owned spirits and wine companies. Additionally, they sell their brands in more than 170 countries.
Use Case and Project Requirements
As Brown-Forman continues to expand their brands and clientele, they needed workflows that complimented their incredible growth and decided to choose SAP to run all of their core operations. Because Brown-Forman runs four mills and two cooperages, many challenges arose regarding offline connectivity issues, purchasing and inventory control in the various remote locations. As a result, many processes had to be completed manually which greatly increased human errors - creating delays in inventory data.
Brown-Forman needed a solution that solved these challenges and while also having the following abilities:
Modern: Their SAP ERP solution had to be modern and low maintenance, while also being adaptable for the future, or "future proof". Should Brown-Forman need to change their hardware out with newer models, they would need to be able to do so with this solution without additional maintenance.
Mission-critical: Log buying and supplementary business functions are critical for barrel manufacturing processes, so having an SAP ERP modernization solution that supported this was a must. It would also have to allow them to access their data systems in remote locations with little-to-no connectivity.
Compatible with SAP: Their SAP ERP solution had to have the ability to upgrade to S/4HANA with minimal effort.
Easy and cost effective: And it also had to be easy to implement and maintain in-house, with no heavy coding skills required.
So how did Brown-Forman solve the challenges for their use case and fulfill their project requirements?
EdgeReady Cloud: A Cloud-Based Solution for Innovation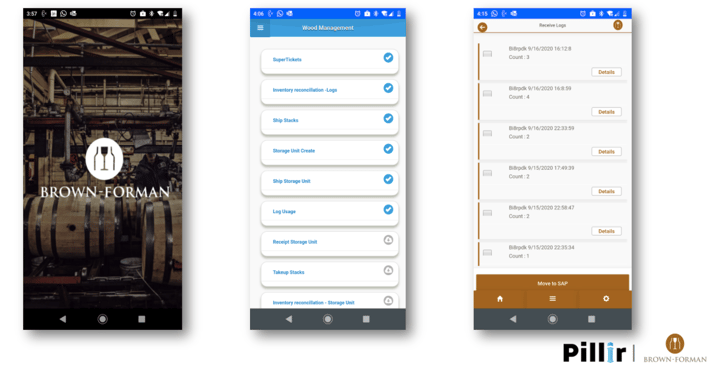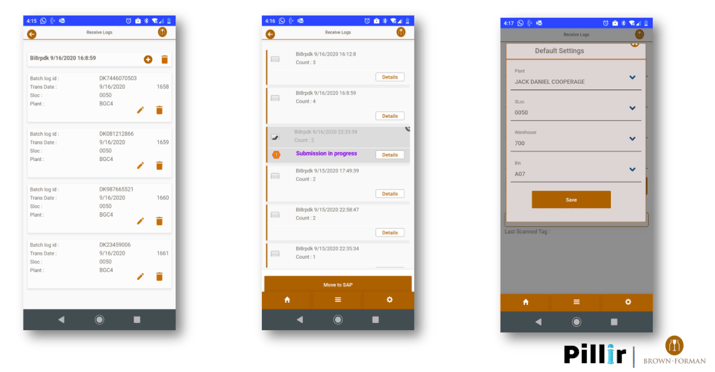 Pillir offers a low-code, rapid application development platform to enable modernization for SAP customers like Brown-Forman. With EdgeReady Cloud, was able to create applications with little-to-no coding - accessible in both online and offline environments.
For Brown-Forman, this solution also solved the challenges they previously faced with connectivity issues, lack of flexibility with SAP, and more.
EdgeReady Cloud provided:
A cloud-based solution that tightly integrates to SAP ERP
Offline capabilities for Brown-Forman's device of choice with the flexibility to change devices when needed
Low-code capabilities, making it easy to build and maintain applications
Reduction of SAP ABAP code, promoting a cleaner SAP core
15 applications that were quickly built and deployed
Improvement to Mill andCooperage operations with inventory location management, log procurement, shipping, and more
Brown-Forman's SAP ERP modernization solution was created to meet the specific needs of their business. Because of EdgeReady Cloud, products like Jack Daniels are now able to hit the shelves of stores around the world faster and more efficiently.
To learn more about how EdgeReady Cloud can standardize your SAP ERP digital core and bring innovation to the forefront of your SAP ERP ecosystem, connect with our team to see a live version of the platform and understand how EdgeReady cloud can transform your business.