In a valuable partner webinar, Pillir and Westernacher joined forces to outline how they can help companies lower the TCO of SAP deployments for supply chains.
Westernacher, a global business and IT consulting firm, partners with Pillir to discuss the digitization and modernization of SAP platforms, while lowering the TCO of deployment.
TCO stands for total cost of ownership—or an estimate of all the direct and indirect costs associated with acquiring and operating a product or system. During times of economic crisis, it's more important than ever to budget and not spend more money than needed to achieve legacy modernization and optimization within your business systems. With supply chain execution projects, there are several typical customer challenges in combination with high TCO that many companies experience. Some of these challenges include user-technology interaction, interconnected systems, data-centric roadblocks, and migration and technical design.
So how does one modernize manual workflows, lower TCO, and ultimately digitize along the supply chain? Watch the partner-centric webinar video below to learn more about how Westernacher's consulting specialty and EdgeReady Cloud solution help to lower TCO and digitize SAP processes and workflows along the supply chain.
Overcoming Challenges within Supply Chain Execution Projects
For the majority of supply chain execution projects (SCE), there lies a common thread of challenges. Companies facing these challenges run into issues with automation and swift completion of tasks, human error, issues in design, and much more. Xi Chen, Director of SCM & ERP at Westernacher, outlined the following as common challenges faced in supply chain execution projects:
User-Technology Interaction: SCE solutions are hands-on and require a lot of user-system interaction. Because of this, aggregation of data would be highly valuable to increase productivity, but typically isn't due to lack of resources or time to manage the data. Additionally, these kinds of interactions are also very detail-focused, so it's best to find a solution that is tailored to optimize efficiency.

Interconnected Systems: to facilitate successful user-technology interaction, technologies in SCE must interact with each other—this demands different interfaces to be able to connect the processes at the global level. Additionally, the technology (IoT), that enables the connection between the different systems requires a lot of expertise and effort in building this type of environment.
Data-Driven Solutions: supply chain is a very big data generator, however, data is only valuable when you know how to interpret and utilize it. The solution to adopt a real time analysis for the root cause and immediate optimizations should be at the core of a speedy ROI.
Migration & Technical Design: technical debt is a common challenge along the supply chain, and can hamper the evolution of any solutions, according to Xi Chen. Furthermore, it can extend the rate-of-change and decrease speed-to-market.
Why Pillir and Westernacher Offer the Best Value for SAP ERP
So, how do Westernacher and Pillir jointly deliver value address challenges faced along the supply chain? They've outlined four key figures to explain how their combination of expertise and modernized SAP solutions provide value to SAP customers.
SAP Customers Design, Build and Modernize Efficient, End-to-End Digital Processes
Westernacher identifies opportunities for digitization across business processes, while leverging EdgeReady Cloud, which allows for faster implementation of the new digital transactions. This means that Westernacher consulting will work with any company to identify what best practices are along the supply chain and where an opportunity for digitization presents itself, rendering great value. Once Westernacher has identified this, Pillir comes into play by providing a highly sophisticated platform to enable these digital transactions.
SAP Customers Build a Clean and Modern Solution Architecture
Westernacher develops roadmaps for solution architecture while leveraging EdgeReady Cloud to connect SAP best practices to other best-of-breed technologies. Westernacher will work with clients to create a long-term plan for a business, while devising a comprehensive architecture. In tandem with Westernacher's consulting, Pillir offers their EdgeReady Cloud platform that supports a multi-solution environment, making it possible to connect multiple solutions together in one location.
SAP Customers Transform New System Data into Real-Time Dashboards
Westernacher works with a client's business resources to design control towers and dashboards for supply chain execution and uses EdgeReady Cloud platform to design intuitive analytics tools. This allows supply chain executives to divert their attention from day-to-day operations and maximize productivity.


SAP Customers Can Ensure a Smooth Migration
Utilizing EdgeReady Cloud, Westernacher clients will be able to provide a clearer view of current ABAP technical debt, while quickly defining a path towards legacy modernization. Westernacher's mature methodology helps drive system migration processes, but relies on Pillir's strong technology to fully support SAP migrations. Pillir's Modernize App helps SAP customers identify technical debt and analyze the total cost of ownership (TCO) to maintain or migrate it within/from their SAP system.
Here's a quick overview of how Westernacher and Pillir leverage each other's strengths: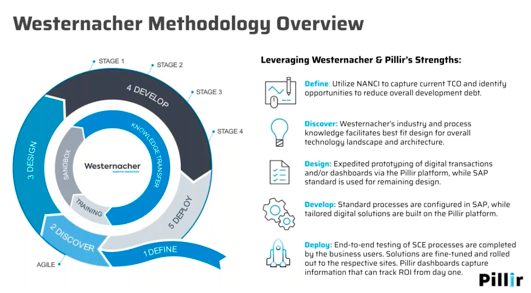 SAP Customers Lower TCO with Increase Rate of Change
Another valuable facet of Westernacher and Pillir's partner solution is the end result of lowering TCO with an increase rate of change for SAP customers.
With EdgeReady Cloud, any SAP business can be digitized, modernized, and mobilized with little-to-no programming. Additionally, SAP customers can work in an easy-to-use drag and drop interface to customize a modern cloud native application, while standardizing SAP in the process. No ABAP code writing is necessary - it can be completely integrated into your SAP program and can be accessed on and offline and on any device.
Along with an easy-to-use interface, apps built within EdgeReady Cloud can be deployed at rapid speed—and to any location. Whether it be to the office, field, factory, plant or anywhere else along the supply chain, you can trust that EdgeReady Cloud will lower TCO drastically. This will increase productivity for SAP customers and provide a positive employee experience as well.
Interested in learning more? Discuss your use case with our team of SAP experts or install Pillir's latest ABAP Discovery and TCO Analysis App, NANCI, to start you modernization journey in SAP.