In warehouses and distribution centers, paper has always been a problem. Although it gives operations a means for tracking products, directing picking, scheduling shipments, receiving orders, and more, there are drawbacks. Paper creates a giant hurdle to real-time visibility, efficiency, and in some cases, accuracy. These inventory management challenges also lead to problems downstream, such as on-time delivery, shipping and operation costs, and customer satisfaction. Furthermore, business leaders don't have the information they need to make data-backed decisions about labor, operations, or purchases. Moving to paperless inventory management can reduce these hurdles.
Using paper-based processes also simply slows down production. Nothing moves without paper sales orders. Pickers need to wait for paper orders, and employees update inventory data by keying in what's recorded on paper. Additionally, forklift operators must interrupt workflows to enter delivery, material movement, and inventory data. And, when employees complete their work orders, they pass paper to their supervisors for signatures.
Furthermore, paper-based processes are expensive and unsustainable. They require consumables and create waste. They can also make an operation vulnerable to human error – and correcting it. In light of current challenges, these are costs that organizations can't afford. The Logistics Managers' Index reports that logistics costs grew 33 percent over 2020 and 2021 due to labor, logistics, inventory, weather-related disasters, and emissions. Compounding those increases with costs related to paper-based products can be unmanageable for a warehouse operation.

How One Company Flipped the Script on paperless inventory management
Toray Plastics (America), Inc. found itself facing a common dilemma. The company used SAP ECC to digitalize internal operations. However, warehouse employees who didn't have continual access to computer terminals had to use paper-based processes and manually enter data. As a result, the business lacked real-time visibility into its operations and lack of vital insights for decision making. Additionally, the company was concerned about the safety aspect of requiring drivers to exit forklifts and walk through a busy warehouse to access or enter data on a stationary computer.
For Toray, mobile warehouse management solutions have been game-changers. They enable employees to look up sales orders, determine locations where products will ship or be received, and move materials where they're needed for production. Additionally, as work is completed, employees can scan barcodes and update SAP without exiting a forklift and walking to a computer terminal on the warehouse floor. As a result, processes are safer, employees are more productive, and shift supervisors have a complete and accurate picture of operations.
Additionally, enabling real-time inventory management via mobile computers enabled Toray America to align with its parent company's sustainability initiative by reducing the amount of paper the operation uses.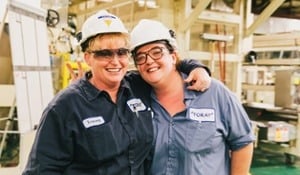 Making Mobile Inventory Management Systems Effective
Toray, as well as other operations that modernized processes by equipping employees with mobile inventory management solutions, use rapid application development (RAD) to create the apps their teams need, such as solutions for carton- or product-level picking. The complexity, costs, and potential disruption of developing apps via traditional methods may have discouraged operations from moving from paper-based processes.
Furthermore, with more companies mandated to improve efficiencies, innovate and modernize their business functions, the shortage of developers is also holding them back. In a research report from Gartner, IT executives named the talent shortage as the most significant barrier to the adoption of emerging technologies for 64 percent of businesses.
However, a RAD platform, particularly one with deep integration with SAP, makes development easier. Additionally, a low-code/no-code RAD platform allows people on your team without development expertise to design and create apps and integrate them with your core business system.
Consider Where Warehouse and Distribution Center Employees Work
Another hurdle that some warehouse and distribution center teams face with mobile solutions is connectivity. Depending on where forklifts move or when managing inventory in and between different locations and the types of materials stored in the warehouse, connectivity can be intermittent and data lost. Some low-code/no-code RAD platforms offer the ability of offline mobile application development, but employees must adapt their workflows to use them and ensure all data gets to the enterprise resource planning (ERP) system.
However, Pillir's EdgeReadyCloud gives you a better option. With this platform, you can create heavyweight offline apps that take a mobile-first approach or use our pre-built yet customizable inventory management application suite. Workflows are the same whether the employee is connected or offline. For example, users can execute SAP documents offline to log equipment use, pick parts, track time, and more. Pillir's technology, including a message queue, data security and persistence, process continuity engine, conflict resolution and error management, ensures all information is perfectly orchestrated when connectivity is restored.
The Benefits of Paperless Inventory Management
Shifting from a paper-based process to mobile solutions provides warehouses and distribution centers with a range of benefits, from time savings, increased visibility, and product and asset traceability. And almost instantly, your operation will know where inventory is in real-time, whether in storage, in transit, work in process, or products ready to ship. In addition, your operation uses less paper and evolves into a more sustainable operation. Overall, you can expect fast ROI and enhanced competitiveness.
More reading from paperless inventory management
Learn more about transforming your operation by visiting Pillir's Inventory Management page. Or check out our limited offer Goods Movement offer.