CRN, a brand of The Channel Company, has named Pillir Chief Revenue Officer JR Butler to its 2022 Channel Chiefs list. The annual report recognizes IT channel leaders that drive innovation and channel advocacy. Honorees are chosen by a panel of CRN editors.
The appointment is the latest achievement to recognize Pillir for its influential leaders who continue to shape the IT industry with innovative strategies, programs and partnerships. Last month, the company was one of only seven vendors named to research firm HFS's OneOffice™ Hot Vendors list. Analysts pointed to PIllir's out-of-the-box thinking and its low-code/no-code EdgeReady Cloud solution as "both inspiring and useful." The company's distinct offering, robust ecosystem, customer excitement and overall impact at helping businesses digitally transform also recently earned it an Editor's Choice award in the CRN 2021 Tech Innovator Awards and the 2021 Digital Innovator Award from Intellyx.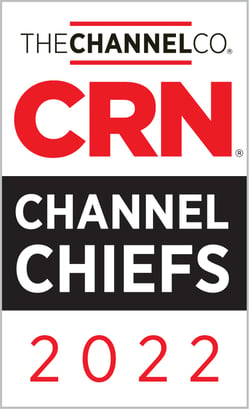 Pillir's low-code EdgeReady Cloud platform allows enterprises that utilize ERP systems to speed their digital transformation journey, even in complex IT environments that are laden with customizations, patches, and legacy code. The solution automatically converts legacy code into modern languages, so developers can focus on innovating from there, transforming software business applications to newer, cloud-ready versions that can be accessed through the cloud or mobile apps. Pillir's offering goes beyond just a low-code platform, providing "business function-as-a-service," where Pillir creates a custom solution for an enterprise company, as opposed to that company having to train an IT team and build applications from scratch.
Pillir's award-winning low-code platform optimizes business applications in complex SAP environments so they can be converted to more modernized, cloud-based versions. These modernized applications increase efficiencies, enhance agility, and transform their departmental functions, making data and apps accessible via the cloud. Pillir offers the market's only platform that can automatically convert legacy custom business processes to modern, mobile-friendly cloud-based applications that run on any device, even without connectivity. It enables organizations at any stage of their SAP journeys to quickly and easily innovate their software applications, with little-to-no programming requirements, rapidly moving custom development to the edge.
"CRN's 2022 Channel Chiefs recognition is given exclusively to the foremost channel executives who consistently design, promote, and execute effective partner programs and strategies," said Blaine Raddon, CEO of The Channel Company. "We're thrilled to recognize the tireless work and unwavering commitment these honorees put into fostering outstanding business innovation and building strong partner programs to drive channel engagement and success."
"Channel partners of all sizes have been able to upsell the building of new business services to a global market of mid-size and large enterprises using our platform," said Pillir CEO Vaidya Aiyer. "The leadership of JR and the rest of our outstanding team is enabling these partners to gain new revenue streams while simplifying and reducing the risk of future migration projects. It's rewarding to see their efforts gain favorable recognition."
CRN's 2022 Channel Chiefs list will be featured in the February 2022 issue of CRN Magazine and online at www.CRN.com/ChannelChiefs.
About The Channel Company
The Channel Company enables breakthrough IT channel performance with our dominant media, engaging events, expert consulting and education, and innovative marketing services and platforms. As the channel catalyst, we connect and empower technology suppliers, solution providers, and end users. Backed by more than 30 years of unequaled channel experience, we draw from our deep knowledge to envision innovative new solutions for ever-evolving challenges in the technology marketplace. www.thechannelcompany.com