BPM vs Workflow
If your enterprise utilizes complex business processes to deliver products and services to your customers, your development team will be interested to know they have a new choice to make: business process management (BPM) vs. workflows.
BPM applications allow you to map out the steps of your company's processes. Processes can be as simple as approving expenses that involve employees entering information, a manager's approval, and the finance department reimbursing the costs. On the other hand, processes can be complex, such as sequential steps in a manufacturing operation involving hundreds of parts and assemblies. Furthermore, a separate business process model for each process can be time-consuming and costly, in some cases these processes can also involve different systems (e.g., Salesforce, SAP) and combine both cloud and on-premises environments.
Fortunately, BPM isn't the only tool that you can use to manage and plan processes. When selecting you should consider BPM vs. workflows differences.
How Legacy Solutions Enable Workflow Management
BPM software enables companies to represent workflows visually and use the models they create to manage and make them as efficient as possible. The model shows which activities are vital to the process and the integrations and connections that are necessary to streamline processes.
However, those connections and creating these processes in a business application code aren't always easy for developers to make. If all the elements necessary to manage a workflow are included in the business' SAP or other enterprise resource planning (ERP) system, business process management is relatively easy. However, business processes often require more than standard ERP functionality and connections to dozens – or even hundreds – of web or mobile apps, third-party solutions, vendor portals, and more.
To complicate the issue, some workflows, especially for employees who work offline for extended periods, aren't constantly connected to SAP due to the lack of Internet coverage. Therefore, employees in industries such as oil and gas, construction, transportation, and mining, often use paper-based processes to record data or track progress, and someone has to enter that information into the ERP later. Unfortunately, the results are disjointed workflows, inefficiencies, delays, and lost productivity. Apps with robust or "heavyweight" offline capabilities can address some of these issues. However, those apps must still be connected to other workflows and the business process as a whole to enable freely flowing, real-time data.
When processes require integrations across various applications, it requires your development team to orchestrate workflows – one interface for the employee, a different screen for manager approval, another screen for finance, and so on. Furthermore, developers must connect workflows based on rules, permissions, and authorizations, particularly if a chain of custody or an audit trail is required for compliance. So, developers need a way to build in the flexibility necessary to account for people moving to new roles or covering when an employee or manager takes PTO without requiring even more time on workflow orchestration.
BPM vs. Workflow: The Difference Low-Code Integration Building Can Make
Although other platforms such as ServiceNow, Appian or Pega address BPM or workflows, Pillir's development team recognized the need for easier business process management and workflow orchestration, so we created a unique combination of cross-application workflows and low-code development solution to meet this challenge. Much like building apps in Pillir's low-code/no-code development platform, developers can now use a graphical interface and drag-and-drop functionality to make cross-application connections to orchestrate workflows.
Pillir's tool also has a key difference when comparing software focused on BPM vs. workflows. We enable you to draw a flowchart to create business logic, orchestrating apps, technologies, people and data into a single workflow. Then, using Scratch-style blocks, developers can connect the parts of the workflow with no coding. The workflow you create connects the steps in each process as well as key stakeholders who participate in each step. While BPM allows you to plan and manage a business process, our workflow orchestration features enable you to build and execute the actual business processes themselves. Read more on custom business process in SAP.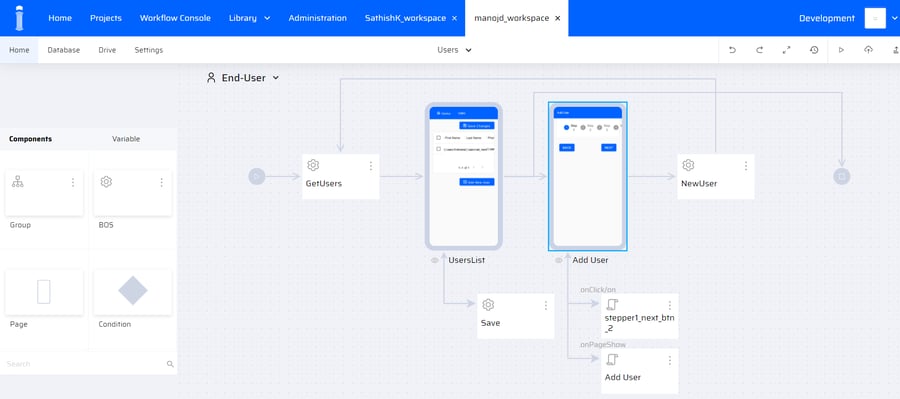 Workflow components
Out of the box, this tool allows developers to connect people with respect to their roles and permissions and even build offline workers into business processes, enabling those workers finally to realize the benefits of digitization and enhance overall productivity.
Moreover, an enterprise no longer has to rely on team members with special expertise to integrate cross-application workflows. As with its rapid application development (RAD) functionality, Pillir democratizes business process management, enabling any tech-savvy person to drag and drop connections on the graphical interface to create an effective business process.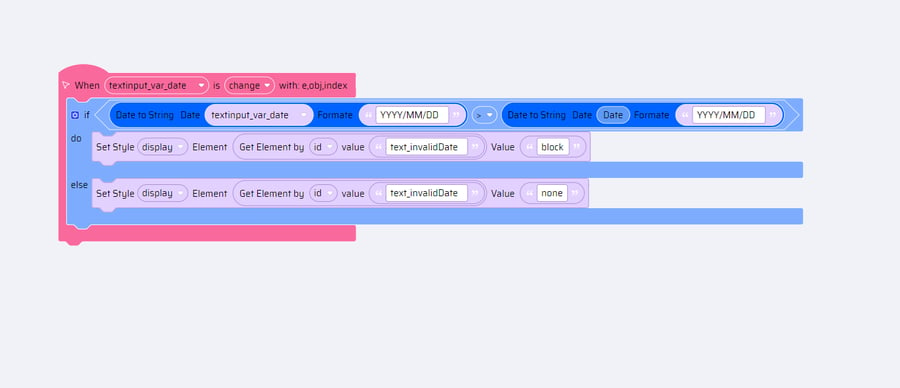 Disrupting Both the Low-Code and Business Process Management Spaces
You can easily find platforms that enable business process management or rapid application development; however, you will only find one tool, Pillir, that offers both with the full deep integration with SAP. And our platform also allows easy heavyweight offline app development for team members working in areas with intermittent or no network connectivity. Moreover, Pillir is purpose-built for seamless integration with SAP and can work alongside other tools such as SAP Fiori to connect all workflows into a cohesive business process in less time.
Our final thoughts on BPM vs Workflow
Overall, your enterprise will benefit from recognizing the BPM vs. workflows differences and choosing the option that provides you with greater visibility, real-time data communication with SAP. Your business will also see ROI from time savings, efficiency, greater accuracy and efficiency through optimized business processes.
Want to see how workflow helps you orchestrate and modernize your business processes? watch this 15-minute demo