SAP work order management
Technicians are most productive when they have all the tools and resources necessary when they arrive at a job site. Work orders generated in SAP detail the specific tasks that technicians must perform to complete projects. Furthermore, enterprises can boost efficiency by equipping technicians with mobile solutions. With a mobile app designed to work with SAP, such as the Work Order Management App from Pillir's Asset Management app package, technicians save time, work more productively, and give managers more visibility into project status.
With the Pillir Work Order Management mobile app, managers or planners can send work orders directly to a technician's rugged tablet, so there isn't a need to travel back and forth from a job site to pick up paper work orders. Additionally, because the work orders contain a list of all the parts needed to complete the job, technicians can use the work order as a planning tool, ensuring they take all the necessary parts to the site and eliminate delays created when they have to travel back to their depot or office to get them.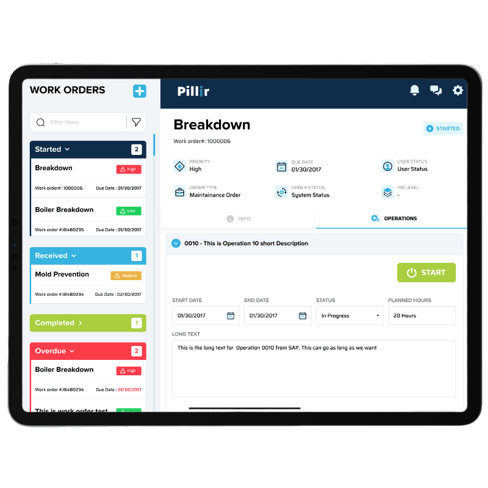 Meeting Challenges of SAP Work Order Management
Although transitioning from paper-based recordkeeping to mobile solutions results in benefits for enterprises, one of the biggest challenges they face is that technicians don't always work where there's network connectivity. The task at hand may be to repair heavy equipment or inspect assets in remote locations or perform routine maintenance in a part of an industrial complex where connectivity is intermittent at best. Without the right mobile solution, a loss of connectivity could mean technicians can't access the data, manuals, schematics, or other materials necessary to do the job.
A rugged tablet suited to this use case will provide the computing power and storage necessary to download materials so technicians can access them offline. However, the best-case scenario is also to give the technicians an app, such as Pillir's Work Order Management, that allows them to work in SAP offline as if they were still connected, tracking their progress and the time they spend to complete the work order. When work is complete, all the information stored in the tablet will sync with SAP as soon as the technician is able to establish a network connection.
Technology that Supports Teamwork and Increases Efficiency
In some cases, a technician can complete a job, start to finish, but other projects may require assigning various parts of the project to different technicians with specific skills. When multiple technicians are involved, planners must know where a project stands. If the first technician was assigned to steps 1, 2, 5, and 6 of a six-step work order, planners need to know when to send the second technician for steps 3 and 4.
Occasionally a technician is assigned a work order but can't complete the task. The Pillir app gives planners visibility into progress on work orders, including those in which a technician has exceeded time estimates for the project but still hasn't finished. Then, the planner can reassign the job to a different tech, efficiently sending the work order directly to that person's rugged tablet and adjusting schedules within the team.
Another aspect of SAP order management with the Pillir app is keeping planners and managers informed when they need to issue a new order. Technicians are typically closer to the assets than managers. When they arrive to complete a work order, they may notice another asset needs maintenance or the equipment they're working on requires more extensive repairs. The app enables technicians to create a notification to send through SAP, including images they take with their tablet's camera and details about what needs attention.
A Solution for the Real World
Teams that continue to use paper-based processes for SAP work order management aren't operating as efficiently as their competitors using mobile solutions. Technicians that carry paper work orders along with maps, schematics or manuals lack the ability to use technology to search for specific data on a mobile device and can't access information hands-free. Paper records also require the back office to enter data at the end of the shift or the next day, creating a lag from the time they perform work until planners are notified. And paper records can be lost or damaged, along with the vital data recorded on them.
Mobile apps are more effective solutions for SAP work order management, enabling data sharing with SAP as quickly as possible, even when technicians work in areas without reliable network connectivity. Pillir's work order management app features "extreme offline" capabilities, enabling the same user experiences for technicians as if they were working online. Pillir allows teams to maintain their usual workflows offline, from logging time, capturing data, and updating SAP inventory management when they take parts from inventory for a project. When the connection is restored, Pillir's data synchronization and orchestration, business rule execution, error management, and conflict resolution engines ensure that all data is smoothly sent to SAP, even if technicians had worked offline for days at a time.
Additionally, Pillir can customize its work order management apps to support specific workflows or limit permissions to app functions based on role. This feature ensures that technicians can't change work orders, allowing planners or managers to maintain control of workflows throughout asset management operations.
Final thoughts on
SAP work order management
SAP work order management is designed for greater efficiency, visibility, and control of asset repair and maintenance projects. A purpose-built mobile app allows enterprises to see those benefits while keeping their SAP core clean.
To learn more about how to make SAP work order management more effective and efficient, contact Pillir.