Warehouses are moving forward with digital transformation – and with good reasons. Labor shortages, supply chain issues that lead to irregular or unpredictable inventory levels, and competition that moves inventory faster and faster are driving the adoption of technologies such as SAP Warehouse Management and SAP Extended Warehouse Management (EWM). Automation, mobility, and always-connected employees allow operations to stay agile and keep pace. Furthermore, because warehouses continue to be perceived primarily as cost centers, finding ways to operate more efficiently and control costs are always overarching goals.
However, technology is always evolving and advancing. Users with SAP environments are planning the transition from SAP ECC to SAP S/4HANA. This also means a transition from SAP WM to SAP EWM or a third-party warehouse management suite so that warehouse teams can continue – or enhance -- use of mobile devices, visibility, efficiency, and competitiveness.
In addition to brownfield use cases, some warehouse operations are IT green fields, evaluating solutions that will help them take their first steps from manual, paper-based processes as they plan a transition to a mobile, connected IT environment.
The smart investment for a greenfield or brownfield deployment will be an end-to-end solution that's customizable, extensible and scalable and that can adapt to their changing IT environments.
What is SAP Extended Warehouse Management? (or SAP EWM Overview)
SAP Extended Warehouse Management is one of the most complete warehouse management solutions available. In addition to helping to streamline common warehouse processes, like picking, shipping, inventory management, and goods movement. It includes support for:
Goods receipt optimization
Automatic optimization of storage options
Freight order management
Kit to stock
Route determination
Vehicle tracking and management
Cross-docking
Labor management
Hazardous materials storage management
RF framework
Material flow system
Data visualizations from a "warehouse cockpit"
Deconsolidation
It also allows warehouse employees to access and enter data into SAP from mobile devices.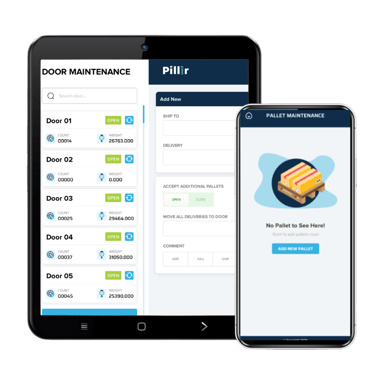 SAP Extended Warehouse Management is an impressive solution, capable of effectively managing fast-paced and complex warehouse operations that can keep up with e-commerce giants that have made accurate, efficient, same-day shipping an artform. Realistically, though, not everyone is adopting an Amazon-like model and trying to operate at the same break-neck pace. The vast majority of warehouses can benefit from far fewer capabilities than those included in the EWM SAP module and can't see the ROI in investing in more functionality than they need – or will use.
As a result, warehouses focused on efficiency are looking for third-party solutions that they can use with SAP ECC now and SAP S/4HANA in the future that gives them precisely what they need.
A Practical Solution for Warehouse Management
Pillir took up the challenge of providing a warehouse management solution that provides the critical capabilities, yet is affordable. Pillir's Warehouse Management suite of mobile and web applications is based on industry best practices and provides the essential features and functions a warehouse needs. Applications in the suite include the following and more applications added on a weekly basis:
Goods Movement, including Goods Receipt, Goods Issue and Transfer Posting
Planning and Monitoring
Pick, Pack and Ship
Planning and monitoring
Pallet maintenance
Delivery maintenance
Storage bin management
Work center
In addition Pillir's Warehouse management solution
Provides applications fully functional on RF devices
Fully customizable for the enterprise's unique processes type and KPIs
Support for quick and simple white or private label
Can be deeply integrated with SAP WM, without having to buy or implement SAP EWM and
It comes with a (free) Low-Code / No-Code platform to build additional apps to support specific unique processes and integrations
External warehouse integrations
Extensions to existing DB structure to support existing SAP configuration and structure
The applications suite allows warehouses to optimize the basics of warehouse workflows, from receiving products, sending them to staging areas, picking and packing orders, palletizing boxes and shipping orders. The apps allow managers to direct work and employees to create and attach necessary documentation and labels. The mobile apps also enable updates to SAP in near-real-time, enhancing visibility into operations and inventory.
The apps, built on Pillir's low-code platform, are deployment-ready and, if needed, can be customized for unique requirements. Furthermore, as long as the warehouse's backend supports SAP WM or SAP EWM, Pillir will work for those use cases.
How Pillir Warehouse Management Is Different
Although some businesses and enterprises focus on the differences in SAP EWM vs. SAP WM with an impending transition from SAP ECC to SAP S/4HANA, it's also smart to consider how using a third-party solution like Pillir can make a positive impact on operations.
Cost savings of at least 65% over EWM
First, consider price. SAP charges for Extended Warehouse Management based on the number of SKUs in the warehouse's inventory. The price can be substantial, with some warehouses easily tracking SKUs that total in the tens of thousands. Pillir, on the other hand, charges by active users of its mobile app suite, which can represent a cost savings of 65 percent or more compared to SAP EWM. (check out Pillir's WM pricing )
Warehouse management in a complex integrated landscape
A second major distinction is that Pillir recognizes that few enterprises have a purely SAP environment. Pillir's platform integrates with popular platforms, such as Salesforce, Oracle and IBM, which cannot directly share data with SAP. With Pillir, a warehouse can create a fully integrated environment in which all data freely flows to other systems and people who need it. Furthermore, analysis can include data from all solutions, resulting in deeper insights, customized to your unique business needs with a drag-and-drop low-code/no-code interface.
Is SAP Extended Warehouse Management the Right Tool for Your Business?
If SAP EWM meets your enterprise's needs, it's a great choice for warehouse management. However, if you can't justify the cost of a solution that includes more features than what you need, Pillir offers a practical alternative.
It's easy to learn more. Contact us for a risk-free demo of Pillir Warehouses Management apps, which we're confident are everything your operation needs, but first you can watch a technical demo of these applications
Further reading on this topic: warehouse management, SAP EWM Process Flow, SAP EWM Decentralized vs Embedded