With the effects of COVID-19 still affecting today's economy and the way companies conduct business, many organizations that use SAP are thinking of new ways to not only cut costs, but also increase the value and effectiveness of their workflows.
When thinking about ways to elicit this transformation in SAP legacy modernization, SAP customers should turn towards cloud-native thinking: specifically, AWS cloud native technologies. By enabling cloud-native thinking around complex legacy systems like SAP, you can increase speed to market for extending SAP to edge use cases while taking advantage of AWS cloud native technologies. Companies such as Pillir and Onica have already done just that. Read more or watch the webinar below to learn more from Pillir and Onica about modernization, best practices, and how they've been able to transform and improve infrastructure by adopting the cloud.
Onica: Transformation with AWS
Onica, a Rackspace technology company, delivers technology services focused on both cloud adoption and transformation, the Internet of Things (IoT) and more. Onica is a 100% "all-in" AWS partner and helps customers be successful in the AWS cloud. Choosing AWS as their sole cloud-platform, Onica selected AWS due to their great level of service and reliability.

In the webinar, listed above, with Pillir, Onica emphasizes why AWS cloud technology is so functional and necessary in today's technology landscape.

Mark McQuade, Onica's Practice Manager for Data Science and Engineering, stated that "We want you to enhance your business on AWS, enhance product offerings with speed and availability and reduce time and resources through business efficiency by automating processes. The cloud is the biggest transformation since the dot com era. [As happened] then, there will likely be winners and losers."
Why SAP Customers Want to Modernize
SAP customers are ready for transformation and digitization now more than ever due to outdated manual and paper-based legacy workflows that aren't automated and take away time, energy, and efficiency from business development. Utilizing Pillir's built-on-AWS cloud technology, your organization has the ability to standardize its SAP digital core and innovate fully at the Edge. EdgeReady Cloud is a low-code, rapid application development platform fully designed and runs on AWS.

So, why are SAP customers ready for transformations like those offered by Pillir?

When it comes to SAP, there are multiple challenges:


Data Access: SAP is largely built on complex tools, languages and API's. Both technical and functional SAP experts required for any integration.
Cost Inhibitors: Expensive traning, implementation, human resource costs (such as data scientists, data engineers, ABAP, functional experts).
Complexity: data preparation, building and training models, deployment of inference endpoints.
Lack of Skills: you need employees or consultants who have highly specialized skillsets, and they happen to be in high demand but in low supply. Additionally, they need to have multiple aread of domain expertise.
With all the challenges faced by SAP customers, it's never been a better time to consider legacy modernization. Pillir and Onica together cover the breadth of this modernization, innovation, and digitization as shown below: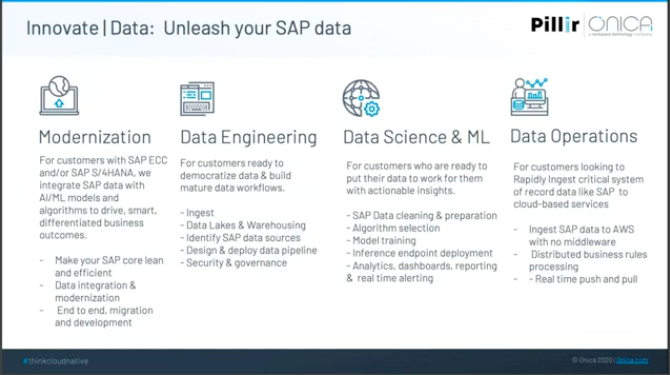 Best Practices for Modernization
When modernizing, it's also imperative to keep in mind best practices for an innovative, reliable solution.

When Vaidya Aiyer, Pillir's CEO, was outlining SAP best practices in legacy modernization, he stated, "We at Pillir focus on keeping your SAP core clean and pristine. We form a digital wrapper around your SAP. [It's smart to] keep your SAP standard and not have too many changes around it because it really impacts the business, but at the same time, you want fast and quick changes [in order to] keep pace with the business and have that speed of change. That's where EdgeReady Cloud really helps [in this transformation]."

Here are some best practices for modernization of SAP architecture:


Capturing Data: enabling endless possibilities for business outcomes
Two-way door solution approach: innovative services unheard of in legacy SAP deployments
Keep your SAP system standard: allows flexibility and agility and lowers TCO
Use the digital edge: requires direct integration hub to SAP which helps to avoid point to point complexity
Click here to listen more about how businesses in any industry can enhance transformation with AWS cloud native technology, such as those offered by Pillir and Onica.
AWS: Innovative Cloud Technology
With cloud-native, AWS-centric technologies and services provided by Pillir and Onica, transformation has never been more quick and adaptable. As a team, Pillir and Onica help to modernize legacy SAP systems and integrated SAP data with AI/ML models and algorithms in order to drive smart, differentiated business outcomes.

For more information about this dynamic relationship or low-code, rapid application development platform EdgeReady Cloud, chat with our team today.