In early 2021, SAP announced that it had acquired no-code platform AppGyver. Since the news broke, Pillir users and businesses researching low-code/no-code platforms for their operations have been asking, AppGyver vs. Pillir, "What's the difference?"
This 8-point comparison outlines how the two rapid application development (RAD) platforms compare and how each could fit into your SAP environment.
The Appgyver vs. Pillir Comparison
Approach to App Development
Both Appgyver and Pillir are low-code/no-code application development tools. They use graphical interfaces to speed up application processes – developers drag and drop rather than write lines of code. Additionally, both platforms are citizen-developer-friendly, enabling people without training and experience in software development to create apps.
Although there are some similarities, there are also substantial differences between the two platforms and looking at how they were created is a good place to start to understand them.
Appgyver: The purpose behind Appgyver is simply to provide an easier way to develop apps. The platform's primary goal is to enable people to create business applications without hours and hours of manual programming.
Pillir: While the platform provides an easier way to build new applications, Pillir's developers had a different goal in mind: to help SAP users minimize technical debt and keep their enterprise resource planning (ERP) core clean. Pillir provides businesses not only with the ability to quickly build SAP-optimized new apps using visual development but also with the ability to convert legacy code to low-code objects. Additionally, Pillir has the distinction as the first SAP React-based SAP low-code/no-code platform.
ABAP Modernization
Because Pillir was specifically designed for Advanced Business Application Programming (ABAP) modernization, there isn't really a comparison here. Pillir provides a diagnostics tool that allows you to visualize your business's technical debt and calculate the cost of maintaining it as you migrate your systems to SAP S/4 HANA, other cloud platforms, or an updated on-premises system. Furthermore, it then can automatically convert existing ABAP custom objects to modern cloud-based mobile-friendly applications.
Appgyver doesn't have these features.
Workflow Applications
Both platforms can help you create SAP workflow applications; however, the app that results from the development process using each tool will differ:
Appgyver: With Appgyver's Composer Pro, you can create React mobile-native and web apps visually, drawing from a library of parameters and variables.
Pillir: Pillir takes a step back to start the application development process with discovery and collaboration, giving your development team a graphical tool for working with stakeholders to model and design the app. Pillir also includes the Business Process Modeler that enables close collaboration with business analysts, visualizing all steps of a business process and the connections between the process and apps. Additionally, with Pillir, you can not only deploy complex business processes and workflows, but you can also create business logic, orchestrating different applications, technologies, people, and data sources, such as Salesforce, Workday, SAP, Oracle, and more, into a single workflow all combined together.
No-Code SAP Integration
Ease of integration with SAP is a pivotal factor for your development team – see how Appgyver and Pillir compare:
Appgyver: This platform wasn't specifically designed for integration with an ERP; however, the SAP acquisition will likely lead to changes.
Pillir: Pillir's developers come from the SAP world, and the platform was designed from the ground up to integrate with SAP. Pillir offers deep integration with SAP through its EdgeReady plug-in, eliminating the need for APIs and OData endpoints. With the plug-in, your app has direct access to data in SAP.
Auto-API Generation for Source Systems
Another advantage that Pillir offers development teams is auto-API generation to connect with source systems. This feature is not included in the Appgyver platform.
Advanced Offline Mobile Apps
Most low-code/no-code application development platforms claim support for offline work. App functionality and user experiences, however, can differ.
Appgyver: This platform provides light offline functionality that includes authentication, local data storage, write policy, and data sync but does not provide advanced offline capabilities like data orchestration, conflict management, Messaging queue, replicating SAP business rules in the device or supporting rugged devices like Honeywell or Zebra out of the box.
Pillir: Pillir purposefully built robust offline capabilities to meet the needs of industries including oil and gas, mining, and construction, which must operate for long periods without connectivity or with intermittent connectivity. With Pillir, offline mobile app development results in user experiences that are the same as if the employee were working online, on all devices including rugged devices =, completing SAP transactions as if they were connected to the system and with no concerns for conflicts or lost data when the connection is restored. This is due to advanced offline capabilities like data orchestration, data conflict, data consistency Messaging queue, and others out of the box.
Automated Testing
Pillir, unlike Appgyver, gives developers the advantage, automated testing. Robotic testing capabilities can test 350 real devices across the range of network providers, simulating real-life situations for mission-critical applications. Pillir also gives you the option to test the devices you use.

Pricing
Of course, pricing is always a consideration when investing in new technology, but pricing can also give you more insights into how a RAD platform can benefit your organization.
Appgyver: Appgyver charges enterprise customers to use its platform; smaller organizations can use ComposerPro at no charge.
Pillir: Pillir uses a consumption-based pricing model. Instead of selling seats or the ability to use the tool, Pillir prices based on the outcome. Pillir doesn't charge for the use of the platform - it is free. You only pay for actual live users in production deployed apps.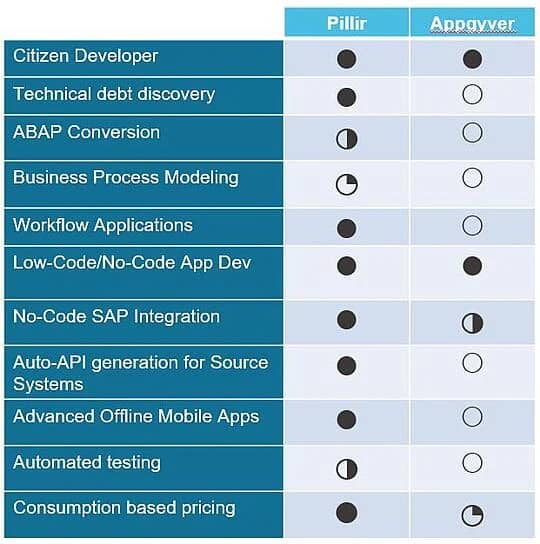 Appgyver vs. Pillir: Why You Don't Have to Choose
Although an Appgyver vs. Pillir comparison – or a Fiori or Mendix vs. Outsystems vs. Pillir comparison -- is vital for selecting the optimal RAD tool for your project, keep in mind that low-code/no-code development doesn't have to be all or nothing.
Final thoughts on Appgyver vs. Pillir
Because Pillir uses consumption-based pricing, you can use (and pay for it) only when needed and consider it as a complement to other tools you use for development.
Watch the free demo and learn more about the benefits it can provide to your development team and your organization as a whole.