SAP EWM Process Flow
A business process flow, such as an SAP Extended Warehouse Management (EWM) process flow, does more for operations than you may realize. One of the most obvious advantages of SAP EWM process flow is standardizing processes. It gives warehouse operators and an enterprise's management team the ability to establish the most efficient processes, control them, and capture data in a digital environment.
However, SAP EWM process flow also provides full visibility as stock or products are ordered from the supplier until the finished products are shipped to the customer. This transparency helps business leaders make informed decisions and mitigate risks from supply chain disruptions or change orders. SAP EWM process flow also streamlines work for employees, whether they're new hires learning the right way to accomplish warehouse tasks or veteran employees striving for maximum efficiency and productivity.
SAP Extended Warehouse Management (EWM) process flow
SAP EWM is designed to give warehouses visibility and control over their processes. Three warehouse process types covered by SAP EWM features add up to a comprehensive warehouse management system: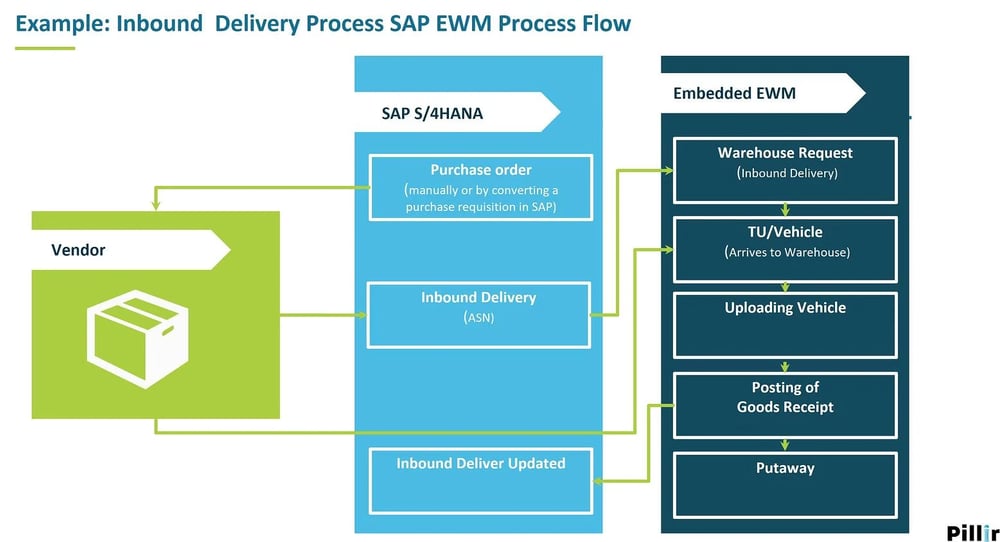 SAP EWM Inbound Process F

low
This covers all processes related to products or materials coming into the warehouse. SAP EWM enables effective management for goods receipt initiated by purchase order, production order, or transfer. It also gives warehouses the option to stage products or materials for quality inspections before moving to storage or operations.
When inbound processes are complete, inventory can be bound for different locations. Storage is managed through SAP EWM down to the specific storage bin or shelf where the inventory is stored and moving inventory from bin to bin or other locations in the warehouse.
Storage and operations process flows also include kitting or packaging multiple units together for easier management as they move throughout the warehouse, to production, or to shipping.
Overall, these process flows in SAP EWM give managers visibility into physical inventory in a dynamic warehouse environment into stock, where it's stored, and how much is on hand, coming in or going out.
This category of SAP EWM process flows pertains to getting inventory ready for manufacturing or shipping products to customers. It includes picking, packing, and preparing items for shipping. It also includes preparing the bill of lading and other documents that accompany a shipment in transport and even handling vehicle tracking with yard-in check-in and yard-out checkout.
While warehouses traditionally attempted to control process flows with paper-based and manual processes, those tactics are time-consuming, error-prone, and cannot provide real-time visibility into inventory and activity. Furthermore, SAP EWM plays an active role in management, allowing warehouse operators to set alerts before data transfer to the core SAP ERP system so they can perform corrections, reversals, or delivery splits.
Example of an Inbound Delivery Process SAP EWM Process Flow
Every warehouse operation is different, with variations on process steps. Furthermore, inventory coming into the warehouse may have origins in different types of orders and be headed to other locations and purposes. But just for illustration, here's one SAP EWM inbound process flow example:
An enterprise creates a purchase order, either manually or by converting a purchase requisition in SAP. The supplier receives the purchase order, then sends an advanced shipping notice (ASN) to inform the warehouse when the shipment will arrive.
An ASN initiates an inbound delivery creation in SAP. With SAP EWM in SAP S/4HANA, this is accomplished with a qRFC-enabled module, and the doc becomes the request for goods receipt and putaway.
When the transportation vehicle arrives at the warehouse, receiving can complete the goods receipt, confirming the quantity of goods. SAP EWM in SAP S/4HANA automatically pulls information from the purchase order and updates inbound delivery.
Next, products move to storage and operations for putaway.

SAP EWM Storage Types
Embedded EWM in S/4HANA includes two options for storage control:
Process-oriented: This control method manages process steps, including quality inspections, value-added services, deconsolidation and kitting.
Layout-oriented: This option manages processes based on the layout of the warehouse.
These process flows link to inbound processes at unloading and continue until products or materials are in their storage bins.
Example of an Outbound EWM Process Flow
The final destination intended for inventory is never a warehouse bin. Once there, SAP EWM gives warehouses a way to manage and control delivery to production or to end customers. An example of an SAP EWM outbound delivery process flow follows:
A process begins with a sales order. Then, SAP checks to see if goods are available to fill the order and creates an outbound delivery order.
Managers create a warehouse task in SAP EWM for the outbound delivery order
Based on the settings the warehouse team has chosen, SAP EWM posts goods issue automatically when confirming the task.
The manager posts the goods issue. This step includes stock removal procedures of determining the storage bin location, picking, packing, loading boxes or materials onto pallets and handing them off to transportation and logistics.
Outbound delivery processes can also be adapted to accommodate goods movement within an organization from one location to another and vendor returns when a product doesn't meet the business's quality standards, products shipped in error, or other reasons. SAP EWM also allows warehouses to accurately control inventory moved to a production supply area.

What More Could You Want? Mobility
The SAP EWM end-to-end process covers virtually every step in warehouse operations from the time a business contacts a supplier until it's ready to ship inventory to production or customers. However, the SAP EWM system itself doesn't provide mobile functionality – and mobility has significant benefits. It enables warehouse employees to capture data as they work rather than update SAP from a shared terminal when they complete a task. Mobility increases productivity and accuracy and elevates near-real-time visibility to real-time visibility.
Warehouses are looking for options to upgrade when SAP ITS is no longer supported, but SAP Fiori is one option for putting warehouse management functionality into workers' hands as they complete tasks. Fiori's library includes warehouse apps, and if one of the apps provides all the functionality a warehouse needs for a specific job as-is or with only minor customization such as hiding or renaming a field, it may be a good choice. However, if the warehouse needs an app tailored to their unique processes, Fiori may require complex processes to customize apps, connect them to SAP, and maintain them.
Fortunately, warehouses have other options for mobility via SAP EWM integration with third-party platforms. Pillir, for example, offers deep integration with SAP while keeping the core clean with the EdgeReady Cloud. Its low-code/no-code platform enables businesses to easily develop their own apps from templates or from scratch using an intuitive drag-and-drop interface. Additionally, warehouses can use Pillir mobile apps on embedded devices, e.g., Zebra or Honeywell tablets and handhelds. Pillir's platform also supports powerful offline capabilities, delivering the same user experience whether a network connection is available or not and orchestrates data synchronization without errors when the connection is restored.
Moreover, Pillir has created its Warehouse Management suite of mobile and web applications based on industry best practices that warehouse teams can use out of the box that include:
Goods Movement, including Goods Receipt, Goods Issue and Transfer Posting
Physical Inventory
Pick, Pack and Ship
Door Maintenance
Most warehouses will find that the suite covers all the functionality they need, and they can complete Pillir Warehouse Management and SAP EWM integration within days.
Optimize Warehouse Business Process Flows
A well-planned process flow in SAP EWM, supported by mobile apps and devices that streamline processes and increase productivity, will pay off with greater efficiency, accuracy, cost control, and happier customers. Optimizing warehouse processes also help businesses keep pace with the competition that continually pushes the envelope to fulfill and deliver orders faster and faster.
Take advantage of SAP EWM Process Flow
Take full advantage of the benefits SAP EWM process flows bring to your operation, and for information on optimizing processes with mobility, offline functionality, and apps based on industry best practices, watch our warehouse management solution in action